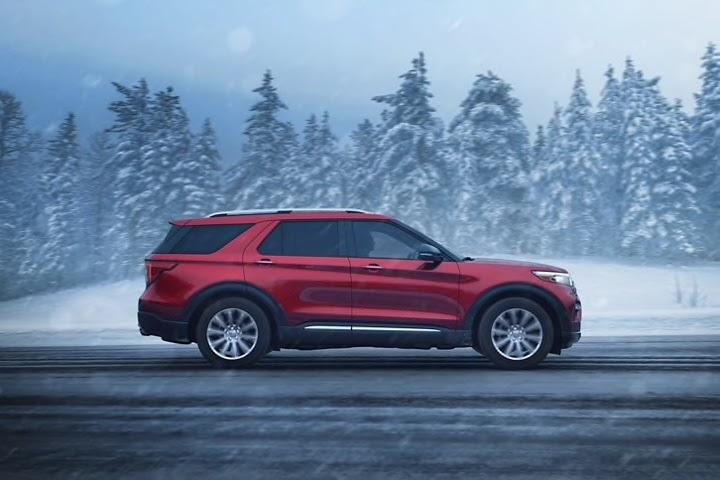 Our trained service technicians at College Ford Lincoln want our friends and neighbors here in Lethbridge to know it's still not too late to get your vehicle winterized for the long, cold months ahead.
If you want to drive into the winter with confidence, the best thing to do is winterize your vehicle. If you prefer to winterize on your own, here are a few things you should do to be sure your car is ready for all that Canadian winters can throw at it!
Check Oil
Easy vehicle maintenance includes changing your oil every 3000 miles. The next time you head into the service center for an oil change, ask your service technician to ensure the oil you're adding is a low-viscosity oil.
Once the cold winter months are upon us, the cold temperatures thicken and harden regular oil, making it difficult for the oil to lubricate all the engine's necessary parts. Oil with lower viscosity is much thinner and engineered to tolerate the cold temperatures much better. By using a low-viscosity oil, you can rest assured that all your gears and pistons are operating correctly.
Check Air Pressure
Manufacturers print recommendations for tire pressure on a sticker mounted on the driver's side door of your vehicle. Take a look at your sticker and take note of the recommended tire pressure. For winter months, we suggest that you fill your tires with just a little less than the recommended pressure to allow your tires a bit more contraction and expansion room.
Checking the air pressure in your tires is not something you need to do every day; however, we recommend that you take the time to check your tires thoroughly before a long trip. It's more pleasant to find a problem in the comfort and warmth of your garage than to discover a problem on a dark, snowy road in the middle of nowhere!
Change Windshield Wipers
Most people don't know they need new windshield wipers until the need is apparent, and then it's too late to be useful! If you've noticed that your wipers smear rather than sweep, or they stutter or shudder across your windshield, making a nerve-wracking "schwerp - schwerp" sound, it's time for new wipers.
Depending on their exposure to the elements, windshield wipers only have a lifespan of between 6-12 months. Go ahead and pick wipers engineered for cold temperatures and durable enough to withstand ice, snow, and freezing temperatures!
Check Fluid Levels
Several systems under your hood keep your engine working to its highest capacity. If any particular part of the system isn't working well, the whole system can shut down. Checking on simple things like fluid levels is inexpensive and quick, something you can do on your own to ensure that all your car systems have what they need to function at their highest capacity.
There are lots of levels to check, too. Transmission, radiator, brake, power steering, and windshield wiper fluids are all critically important. Top off these levels before winter, so you don't have to worry about it when temperatures drop.
Ask your service technician if antifreeze should be added to the water-based fluids, too, to keep them from freezing.
Check Battery
Batteries have a lifespan of 5 years. If you know you've not changed your battery in that long, go ahead and replace yours before slogging through the winter on a battery that doesn't want to work correctly.
At least ask your technician to check the battery cables, caps, and connections to be sure that when you turn the ignition, your battery is ready to go!
Consider Winter Tires
Not so long ago, we called these tires "snow tires." They're referred to now as "winter tires" because they provide superior traction on cold, frozen roads, not just roads covered in snow. Winter tires are engineered to perform well in lots of different winter scenarios. They may cost a little more than regular tires, but with good maintenance, they can last up to four seasons.
Prepare an Emergency Bag
Preparing an emergency bag is one of the most important things you can do to protect yourself and your passengers. No matter how carefully you prepare, sometimes the unavoidable occurs.
Think about the passengers that most frequently travel with you. Grab an old, clean gym bag and pack specific items that you know would come in handy should you be stranded on a dark, cold road for an undetermined amount of time. Be sure to place the packed bag in a space you can access without getting out of the car.
Some items you may find helpful:
Water bottles and non-perishable items: jerky, trail mix, granola bars, hard candy

Reflector triangles or road flares

Flashlights with extra batteries

Blankets, travel pillows, warm socks

Poncho

Duct tape

Extra phone charger

First aid kit: bandages, antibacterial cream, gauze, tape, gloves, antacids, aspirin, Children's fever reducer, whistle, tourniquet

Books, magazines, coloring books, and crayons
You'd be surprised how a small bag full of unique items can make a cold wait much less precarious, frightening, and tedious!
There are many ways you can prepare your vehicle for the cold winter ahead.
Schedule a winterizing appointment with our talented service technicians today!
You won't regret it.